You can't get the best credit card rate until you understand the APR features of credit cards, then you can make an intelligent choice and get the right card for you.
Choosing the best card from the extremely vast amount of choice available to today's customers is not an easy task at all. Each credit card offer includes a detailed list of particular features that make that card unique. In reality, most cards offer similar features with only minor differences. Let's now examine what the APR stands for.
APR is the "Annual Percentage Rate", which is the sum of money you pay in percentage for the opportunity of carrying out purchases and handling a balance.
The All Important APR
It is vital to understand what the APR is as it can considerably affect your capacity to settle your account, especially if you hold a balance. This number does not only vary depending on the type of card, but also on your purchasing and payment habits.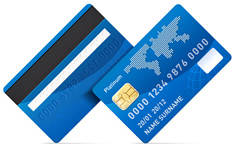 The highest APR can be encountered in the case of cash advances, while for purchases it is usually a smaller percentage. For instance, for a cash advance of $200.00 the percentage may be of 23%, while for purchases, it could be about 19%. Since this is a quite significant rate, it is always wise to pay by credit cards only in urgent situations or for purchases you will be able to pay back on a monthly basis.
The APR can also vary on the basis of the balance you have on your card. Since the APR depends on the balance level you belong to at any given month, these are also called tiered APR's. For instance, a balance of $0-$2,000 may correspond to an APR of 14% while a balance of more than $2,000 is subject to a rate of 18%. Therefore, it is worth keeping your balance lower when it comes to using these cards.
Besides this, there is also the penalty APR, which comes into play when you are a regular late payer. If your APR is increased, your whole balance will be influenced. So: Be punctual with your payments.
Next, let's take a look at the introductory APR, one of the most widespread marketing means used by the card companies. The introductory APR is a lower interest rate on transferred balances and purchases that take place within the initial period. This might be convenient if you have the possibility to transfer your balance from a higher APR account.
Finally, do not forget to take a look at the future APR (also called delayed APR) that comes into play once the lower rate has expired. Be careful, because this rate is usually much higher than the introductory rate you have been offered.
To sum up, make your choice only after having examined in depth what rate you will have to deal with for each card. Make your choice wisely and be cautious!
Related Articles
Learn more about credit cards and your credit score with these related articles:
All about Credit Cards … a series of articles on choosing credit cards, how to evaluate them and where to get them, quickly and easily!
Your credit score … what to do, where to go, and how to handle it …
Top of Best Credit Card Rate