Whether you need budget calculators, mortgage, loan, or repayment calculators, or other financial help, you can start here, absolutely free!
Feel free to use these calculators to help repair your credit and maintain your budget, as well as setting up extra payments for faster debt payoff.
When used right, these calculators can help you fix today and secure tomorrow. Be sure and read what each calculator does, and how to use it effectively.
Automatically calculates totals and financial ratios to help you make smarter spending decisions. You can even print the form after you make your entries.
The household budget calculator was extremely easy to use. It includes every type of expense that needs to be taken into consideration.

I thought the instructions for how to use the budget calculator were very clear. It is very comprehensive and has everything I need to get better understanding of my debt to income ratio.

Using this calculator could really help my fiance and I get our finances and budget in order!

We have just bought our first house and getting our bills in order and really looking at what we have versus what we spend on all the bills each month will be very useful and valuable for us.

Overall, this is an excellent financial calculator which could benefit many people, especially these days when the economy isn't the greatest and so many people are struggling to stay out of debt. Thanks for creating this very handy free tool!!

Posted by: Barbara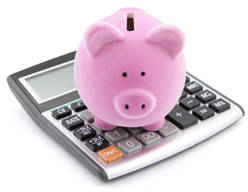 This calculator will show you the payoff time and interest you will pay on credit card debt.
Learn how the interest rate you pay affects your mortgage payment.
Shows comparison of interest only mortgage to standard format principal and interest mortgage.
Compares cost of leasing a car vs. buying a car. Check out which works best for your budget.
Our free debt ratio calculator automatically calculates so you know where you stand. Make the choice to move toward making better financial decisions.

I found the calculators very easy to use and appreciated the explanations that preceded them. I felt the language used in the explanations were straight forward and down to earth. It felt like really "free" tools and not a selling point for a service, which was good.

I really appreciated the debt to income ratio calculator as I had not seen that before on other sites. It was very revealing to me and I see that I have some work to do on that front.

I had no trouble understanding what and how to operate the calendar as the explanations were very clear. Overall, I felt that this was a site that offered help for me to get my head around the financial situation I'm in and a place that I could find strategies to help me in my goal of not drowning in my debt.

Posted by: Carri
Our free loan and mortgage amortization calculator can help you amortize your mortgage and loan payments as well as print out the amortization schedule. Know how your payments are applied immediately, and see how extra payments can affect your payoff!
I found this calculator very easy to use. It is easy to compute a monthly payment amount based on the principal amount borrowed. Free amortization calculator is very helpful to amortize the mortgage and loan payment as well as print out the amortization schedule.

Posted by: Rhonda
Calculate your monthly payment based on down payment, finance rates, length of loan, etc.
This calculator will show you how much interest you will end up paying if you make only the minimum required payment on your credit card bill.
This calculator has a very user friendly interface and is incredibly easy to use. I use it because I'm in trouble with my credit card payments.

Sometimes one needs to find the right plan, but it is difficult without a calculator such as this one. It makes it easy to carefully work through the numbers and find the best way to pay. There is no confusion at all.

Posted by: Cathy
Quickly and easily compare car loans to see which is best for your budget. Put in data for 2, 3 or up to 4 different auto loans.

It is very easy to use this free auto loan comparison calculator; it will automatically calculate and compare up to 4 different interest rates and loans.

Posted by: Antoinette
Return to Money Management Budgeting Tutorials
Top of Free Budget Calculators