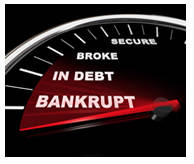 The bankruptcy Means Test determines if you must file Chapter 13 or are eligible for Chapter 7.
You will be required to apply the test if you are considering filing. It will determine whether your income is low enough for you to qualify to file a Chapter 7.
The means test is implemented to prevent people from filing Chapter 7 when, in fact, they have enough available income (referred to as "disposable" income) to pay back at least a portion of their outstanding debt in a plan for Chapter 13.
The basic goal of the Means Test is to reserve Chapter 7 filing for those who truly cannot afford to pay back creditors and honestly need the relief and fresh start this type of bankruptcy provides.
This also ensures that creditors receive at least partial repayment from whoever has the available income and are able to follow a schedule outlined by the court under a Chapter 13 filing.
The test is divided into three sections or formulas; however, depending on your results, you may not be required to complete all sections.
Means Test – Section 1: Median Income
In this first step, the court will look at your average family income for the 6 months prior to your filing and compare it to the average income for a household of the same size in your region.
If your average income is below the median, you will likely by eligible for filing Chapter 7. However, if the average income exceeds this median, you will need to complete the next portion of the test.
For example, the median income for a family of four in Florida is $68,763. Therefore, a household of this size residing in Florida must have an average income below this figure to qualify to file Chapter 7. If the average income is greater than this amount, an additional formula will be applied.
Means Test – Section 2: Disposable Income
In this second step, certain allowable living expenses (determined by the IRS) will be deducted from your average income to determine what is referred to as your monthly "disposable income."
This figure is then multiplied by 60 (the number of months in 5 years) and the resulting amount represents the income you will have available to repay debts over the next 60 months.
If the income available for debt repayments is less that $6,000 for the 60 month period ($100/month), then it is most likely you will qualify to file Chapter 7.
If this amount exceeds $10,000 ($166.67/month), you will probably be denied Chapter 7 and forced to file Chapter 13 bankruptcy.
However, if the disposable income of you (and your spouse) falls from $6,000 to $10,000, a third calculation will be applied.
Means Test – Section 3: Debt to Income Comparison
In this third step, the projected disposable income of the debtor for the next 60 months (5 years) is measured against the unsecured debt included in your bankruptcy to determine a percentage.
If the disposable income is less than 25% of the outstanding debt, the debtor will likely qualify to file Chapter 7. However, if the disposable income exceeds 25%, Chapter 13 will probably be required.
Example
Your total debt to be included in the bankruptcy is $45,000, and the first two steps of the Chapter 7 Means Test have determined that you have a monthly disposable income of $120.
120 x 60 = 7200
This calculation shows that your available income for debt repayment over a the next 60 month period is $7200.
Since $45000 is more than $7200 (which is under the 25% of $45,000), you will be eligible to file Chapter 7 bankruptcy.
However, if your total debt was $25,000, then your available income would exceed 25%, making Chapter 13 necessary.
The Chapter 7 Means Test formulas can be complex, so it may be beneficial to consult a bankruptcy lawyer who can help you understand the rules, work through some income calculations, and advise you about which type of bankruptcy is best for your particular situation.
What's Next?
Get answers to your bankruptcy questions here.
Learn more via our introduction to bankruptcy.
Or go to the Bankruptcy Facts article list.
Top of Bankruptcy Chapter 7 Means Test – do you qualify?