Your credit score decides a lot about how stable your financial future can be. This number decides if you can buy a car, purchase a house, and sometimes whether or not you get a job. Credit is nothing to mess around with, but it's also a complicated thing. People will low credit scores or bad credit history struggle constantly with these things.
That's why today we're going to look at the top five credit repair reviews for 2017. These companies have been thoroughly vetted by DebtSteps and approved as great options for your financial future. Let's dive in and see what they have to offer!
5 Recommended Credit Repair Solutions Reviewed
What is credit repair anyway? In short, it's the process of exercising your legal right to have items removed from your credit report that are unfair, unsubstantiated, and inaccurate. Studies done by the Federal Trade Commission have found that at least 1-in-5 people have items like these on their credit reports.
These items can stay on there for up to ten years! They hurt your credit score, and they keep you from realizing your goals. What's worse is they also cause you have higher interest rates. To save yourself from these pitfalls, credit repair companies can help you find and dispute these items on your report.
How they go about it, what experience they have, and the cost of their services are all factors we considered when building this list. Take a look below and find out which credit restoration company is right for you.
1. Lexington Law
Our top recommendation is Lexington Law. This company has a lot of great characteristics:
Cost: $79.95/month

$50 discounts for couples and active military members

25+ years of experience

Free credit report summary

No contracts, cancel whenever you like.
Lexington Law has over 22 lawyers and 400 paralegals on its staff. These people have the experience and knowledge needed to properly analyze and pinpoint items on your credit report that can be removed. These items include everything from late payments, to liens, to bankruptcies, and even charge offs.
In 2015 alone, they had over 7.5 million items removed from credit reports. Perhaps the best indicator of a great company are the results they've managed to create. It's worth remembering that nothing is guaranteed with credit repair, so strong results are the best way to judge a company.
Lexington Law also goes above and beyond when it comes to educating their clients. With numerous blog posts and FAQs, the company is dedicated to helping people better understand credit and how it affects their daily lives.
This ensures that people will continue practicing smart credit strategies long after they finished using the services that Lexington Law offers. Now, one question you may have is why can't I just DIY my credit repair?

The truth is, you absolutely can, but it's not easy. You see, credit repair is only possible as a result of several laws that have been passed to help consumers better control their credit scores. These laws are complicated, and the dispute processes can take up to 30-days to complete.
Proper supporting documents and evidence of errors is crucial if you want to be successful in your disputes. That's why an experienced company like Lexington Law is so important to utilize. They have the experience and the knowledge needed to ensure that you have the best possible chances of having items removed quickly.
Visit Lexington Law's website or call their phone number to schedule a free consultation and see what possibilities credit repair can open up for you.
2. Sky Blue Credit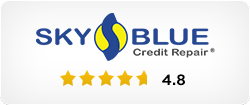 Sky Blue Credit is a highly-rated credit repair company with a great history of helping people understand and fight back against wrongful items on their credit reports. Let's take a look at some of the reasons why this company is so successful:

Cost: $59/month

26+ years of experience

100% Money Back Guarantee

No contracts, cancel anytime!
One of the first things you will notice about Sky Blue Credit Repair, is the cost. Unlike the first two companies on this list, they undercut the competition with a much lower monthly rate. While this may suggest that they aren't as good, they do have a major characteristic that makes them desirable.
They hold the current record for the number of disputes filed per month for each of their clients. Other companies will start with a few items here and there, but Sky Blue Credit promises to dispute up to 15 items per month. This comes out to 5 items per credit bureau!
This kind of dedication highly increases your chances of getting negative items removed. This rate can help you get important things like car loans or credit cards to help with financial needs. What's more, is that Sky Blue Credit also offers their services for a single and easy price.
For the $59 per month, you'll receive the same service as anyone else using this credit repair. They offer a combination of professional analysis and faster disputes than any other agency we've encountered.
As these disputes are being handled, Sky Blue Credit will also review your report and offer assistance with raising your score. Specific actions will be given to you that help educate you on the best possible practices.
This guidance also comes with advice on how to open new credit cards and manage their balances for the best possible FICO score. For no extra cost, Sky Blue Credit Repair also offers a few bonus services.
These services include debt validation, goodwill letters, and negotiation guidance. Of course, none of these things cost any extra, which makes them excellent features for the low price. There is also a 90-day money back guarantee with Sky Blue Credit.
If at any time during your credit repair, you feel like you're not getting your money's worth, they will refund everything you've paid within the first 90 days. Sky Blue Credit has been around since 1989, which gives them tons of experience to work with as well.
They have a strong focus on compliance when it comes to things like the Credit Repair Organizations Act, which ensures that they will never compromise your trust or your credit. At such a low price, this is one of the best options currently available.
3. CreditRepair.com
Next up we have CreditRepair.com. This company falls just beneath Lexington Law as one of our top picks for a credit restoration service. Here are some of the reasons we love this company:
Cost: $99.95/month

18+ years of experience

TransUnion Credit Monitoring (Free of charge)

24/7 score tracking and analysis

Mobile app with real-time alerts

No contracts, cancel anytime
CreditRepair.com differentiates itself by going beyond the concept of simple credit repair. Their services are meant to help people develop strong spending habits that keep their credit healthy long after they've finished using a credit repair company.
It's about repairing the past and solidifying the future with positive strategies and tactics that ensure healthy credit going forward. The main goals that CreditRepair.com champions are: achieving your dreams, increasing your abilities, earning equal opportunities for your finances going forward.
A great credit score also demands a certain lifestyle, and CreditRepair.com is dedicated to helping you find that lifestyle for yourself. Much like Lexington Law, this company also has a detailed blog dedicated to answering all of your major questions about credit repair.
The transparency they offer is important because many credit repair companies can trick you by being willfully mysterious and make promises that are impossible to keep. For example, no credit repair company can give you an exact measurement of how quickly or how significantly your credit score will increase.
Removing negative items from your report will indeed help matters, but it does not guarantee success. It's important to completely understand how credit works and the complexities of it, so you can set your expectations accordingly when signing up for credit repair. Everyone's situation will be different.
Much like other credit services, CreditRepair.com utilizes a three-step process to repair the credit of their clients. This involves starting with reports from all three of the major credit bureaus: TransUnion, Equifax, and Experian.
Since these bureaus all furnish their data from different sources, the reports they offer will differ. This is why a credit repair agency like CreditRepair.com will look at all three reports for discrepancies or errors.
The next step is to challenge the errors or wrongful entries on the reports by filing a dispute. While the process of filing a dispute is fairly simple, the documents needed to support the claim can be complicated.
Experienced credit professionals will look at the various laws in place to protect consumers and use these to better identify the documents needed to give the dispute a strong case. The final step is to facilitate this change through additional disputes and direct contact with creditors.
CreditRepair.com is among our top picks for credit restoration because they offer this tried and true method of credit repair, along with tools that help their clients better understand and control their credit.
4. The Credit People
The Credit People is another stellar choice for credit repair. With options for how you'd like to make your payments, there's a lot to love here. Let's take a look:
$19 setup and $59 per month, or $299 upfront

Setup fees are waived with upfront payment

No monthly fees

14+ years of experience

100% money-back guarantee

No contracts
The Credit People is one of the few credit repair agencies that offers multiple options for your payment setup. Whether you want to space out of the payments or pay a lump sum upfront for six months of work, the choice is yours!
Once you sign up for credit repair through The Credit People, they obtain the credit reports for you, free of charge. They are one of the only companies that do this, which is a great feature. It's important that both you and your credit repair service have access to these reports. They will allow the professionals to see where you stand and how you can improve your score.
The Credit People also offer a starting price option of just $19. You can try them out for 7 days and see what you think. There's no hidden fees or costs, and the service is always incredible. If you don't like what you experience, you get your money back.
You have 24-hour access to your credit repair through an intuitive online dashboard that allows you to see the progress being made on every front. You can also easily connect with representatives to ask any questions you may have.
Finally, The Credit People offers what they call "the extra mile." This is their promise to go above and beyond traditional credit repair. When you run into a situation where you need advice or help, their response will always be "how can we help?"
They've done this in the past with things like referral letters, advice on getting interest rates lowered, and much more. Things like employer assistance, credit checks, and updated credit reports are all within their power.
5. Ovation Credit Services
Our final credit repair service is one that combines experience with affordability for great results. They also offer plenty of attractive discounts! Let's take a look:

Cost: $89 setup, $49/month

Discounts for seniors, military, and couples

No contracts

Identity optimization services
According to the Ovation Credit Services homepage, over 79% of credit reports contain some kind of mistakes. Furthermore, 54% of reports contain information that is outdated or belongs to a different report.
Once you sign up with Ovation Credit Services, you can choose from two program options: Essentials and Essentials Plus. For the Essentials plan, you'll get personalized dispute options that fit your exact situation. A Dispute Manager website is used by clients to report items they would like to have disputed.
You also get a personal case advisor who you can call or email at any time when you have questions. The Essentials Plan costs $89 up front, followed by $59 per month until your credit back to where you want it to be.
The Essentials Plus plan offers unlimited goodwill letters to creditors as well. You also receive an official Ovation recommendation letter at your request. These are signed by the Directing Attorney.
Finally, this plan also offers credit monitoring from TransUnion. Alerts will be provided as needed if there are any changes to your credit report. These is useful because it will allow you to stay on top of any potential negative elements that could affect your credit score.
The Essentials Plus plan includes all of these things, along with the Essentials Plan, for $89 per month, every month.
It's Time to Choose Your Credit Repair Service
These credit repair reviews should help you better understand what makes these companies unique. Furthermore, it should also help you decide which one is right for you and your situation. Take comfort in the fact that these are legitimate companies who want to help you repair the negative items on your report.
While there's no guarantee as to how many points you will gain on your credit score, it's important to remember that removing these items from your report will absolutely cause a rise in your score at some point. Choose one of these options, and start repairing your credit today!