Finances got you down? We're here to equip you with debt help for women no matter where you may be in your financial walk. You'll find advice and tools for your specific situation and more here.
Maybe you've just graduated from college and want to pay off student loans so you can begin your life of independence on the right foot.
Maybe you're a mother trying to balance work and career while struggling to make ends meet.
Or, maybe you can see retirement on the horizon and are concerned about financial security in your senior years.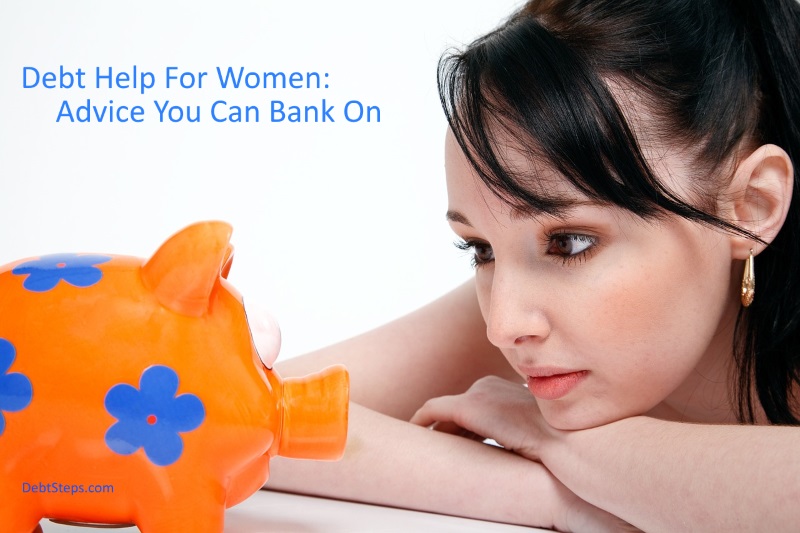 The truth is, sometimes just paying the bills can be hard, right? And, it can be even more difficult if you have a family to support. Whether you are barely scraping by and just living pay check to pay check, or facing down an overwhelming mountain of debt, financial stress can affect every area of your life – and not in a positive way.
If you're feeling the pressure, you are not alone. A recent National Debt Relief survey found that more than 60% of women carried credit card debt, as opposed to 33-36% of men (depending on the age category). Similarly, several statistics are showing that in the last couple years, more women than men have filed for bankruptcy.
So, how do you turn things around? At first glance it can seem insurmountable, especially if you have a fixed income. But, it can be done. As a woman, you can break the cycle and take control of your money. Financial freedom is possible. Dare to dream!
Debt Help for Women: 6 Debt Reduction Tips
1. Get Educated. Take a proactive role. Talk to a financial adviser. Learn about the importance of terms such as credit score, debt-to-income ratio, or compound interest, and how these things can affect your financial strength. Knowledge is power!
2. Develop a Budget. Building a strong financial future involves planning, strategy, and problem solving – things that most women excel at. If you can run a household, planning a budget will be a breeze. Although, sticking to it might be a little more difficult. But, with hard work and determination, you can whip your finances into shape. Simple tips like giving yourself an allowance – in cash (it's too easy to overspend when using credit cards and impulse buying is one of the biggest budget killers) – or tracking your spending will help you reach your goals successful.
3. Find Other Sources of Income. If you can afford the time, start your own home business to supplement your income, even if it's only a couple of hours in the evenings or on weekends. What are you good at, or what do you enjoy? Baking, sewing, consulting, design, fitness training, or even online work can provide a little extra cash that will go a long way toward achieving your financial goals. Explore your options, call on your skills, and find a way to put your talents or abilities to good use.
And, keep in mind that "a penny saved is a penny earned". Things like cutting back on phone bills, working out at home instead of the gym, taking your lunch to work, or shopping for sales can take pressure off your budget and leave you with a little extra money to work with.
4. Consider Debt Relief Options. Sometimes, even the best of budgets are not manageable. There simply isn't enough money to go around. If you have reached that point, there are debt relief options that can help give you a fresh start. It may be time to consider credit counseling, debt consolidation, debt settlement or even bankruptcy. Most companies offer free consultations, so you have nothing to lose.
5. Change Your Mindset About Money. Studies have shown that many women don't make saving a priority. They spend what they have and live according to their present income. But, to achieve financial freedom and security, you need to change the way you look at money. You must view it not simply as a way to meet your immediate needs, but also as a tool to build your future. By being future-minded and seeing the big picture, you will learn how to let your money work for you.
Learn how to invest, manage, and use your finances for your benefit. Make getting out of debt, staying out of debt, and building wealth a challenge to be achieved rather than a struggle to overcome.
And, don't worry, smart money management doesn't have to mean that you can never have fun. You can still enjoy life and treat yourself once in a while. It's just a matter of learning how to live in the moment while also thinking beyond the moment. Perspective can change your attitude!
6. Commit to Staying Out of Debt. Some things are out of your control, but more often than not, debt really is a matter of choice. Set your finances and budget up so it's easy to stay out of debt. Tips like developing smart spending habits, having an emergency fund, using credit cards wisely, following a financial plan, or being accountable to someone else can help you maintain control of your finances so the debt cycle stays broken.
Check out 20 tips to reduce debt!