Are you looking for some debt settlement reduction tips that have worked for others in similar financial situations? Or, do you have a debt settlement story of your own to share?
Debt settlement can be an effective way to relieve overwhelming financial pressure, but it isn't the right choice for everyone.
Here are some useful tips from those who used debt settlement services to reduce what they owed.

I was young and fresh out of college. My job suddenly reduced my hours, with very little notice.

It took me three months to adjust to my new wage level and by then my credit card was maxed out. One day the card carrier called me at work and wanted me to pay in full.

Their calls did not stop and I became worried about losing my job. So the next time they called I told them not to call me anymore. They must have been worried that I was going to disappear without paying anything because they started to make wild negotiations with me.

I wanted to see what my card agreement and the US Fair Credit Reporting Act had to say first and told them I'd get back to them. For some reason they panicked and made the deal even sweeter.

At that point in time they were saying that if I made 1/3rd of my full bill, in one payment, they'd match me and list my card as paid in full. It was my whole paycheck but to get this card carrier (HSBC) off my back I decided to go for it.

One other thing should be noted: I told them, "I don't care about my credit score." I was able to say, "I don't care about my credit report," with one hundred percent confidence in my words and voice, because I had decided to live without credit cards in my life.

So I used their fear of not being able to call me anymore, and my not being afraid of the credit system, to get: Interest and fees reversed, as well as some principal removed.

Posted by: Lora
Debt Settlement Reduction Tips: If you are unable to meet your financial obligations and you are continuously falling farther behind on your payments, then you may be able to contact your creditors and negotiate an agreement for less than you actually owe. Some people have even reported that their balances were reduced by 40-60% or more.

My experience when negotiating with a credit card company was a few years ago shortly before securing the mortgage for my first home.

I had a credit card through what was at the time Orchard Bank which had fallen into collections when I had been much younger. In total my credit report indicated that I owed roughly thirty-seven hundred dollars on what had originally been a fifteen hundred dollar line of credit.

I pulled the contact information from their website and called the collections department. It took several phone calls but eventually I was put into contact with a manager who was willing to accept seven hundred and fifty dollars to close the account and have it reflect as being paid in full on my credit report.

I had the manager in question send me everything in writing by certified mail and once I got the paperwork I made my payment and sure enough thirty days later my credit report was updated. I would most certainly negotiate again if I ever needed to.

Posted by: Tamara
But, before approaching creditors, be sure that you understand the consequences and that you know where you stand financially so that you do not make arrangements that you are unable to keep. Click here to read more about how debt settlement reduction tips were used and what happened to the people in debt.
I Need Debt Settlement Help by Elena (USA)
Hello:
I am hoping for some help. I have an extremely large amount of credit card debt. I do not wish to file bankruptcy. I have made debt settlement offers to the credit cards but they have not responded at all, they continue to add late fees and over-the-limit charges to my accounts. It's been over a month since I made my offers.
What do I do next? Do I contact them again (don't want to seem too anxious) or wait for them to contact me.
I would really appreciate any assistance from anyone who has had debt settlement experience with charge cards. Thank you.
---
Now it is time for you to wait until they contact you. If you get calls from your creditors or a debt collection company, just explain that you sent the creditor an offer of settlement but haven't heard back yet. They may ask you to fax them your offer, go ahead and do that. Then wait for their offer to come in.
Reply by: DebtSteps Admin

Will credit card companies reduce debt? by Vic (Missouri)
We have $77,000 in credit card debt and my wife was laid off from her job last month.
We just came into $35,000 and would like to pay down our debt.
We are current and have never missed a payment with the credit cards.
If we tell our story to the credit card companies, wife laid off, future payments might be tough, but we have some money to payoff some debt, is there much chance any of them will reduce the amount owed for a quick settlement?
And will that hurt our credit rating?
Thanks in advance for your help.
---
Hi Vic,
In today's economy some credit card companies will entertain debt reduction requests, others won't, when you are current on your payments. You will just have to contact them to find out.
However you should know that any settlement reached will affect your credit report. Most companies put some type of comment in your credit report unless you can negotiate that they won't.
Do read a few of our articles on negotiating your own debt settlement as I believe they can help you:
https://www.debtsteps.com/credit-card-debt-settlement-program
https://www.debtsteps.com/negotiating-debt-settlement
https://www.debtsteps.com/credit-card-debt-negotiation
Wishing you all the best,
DebtSteps Admin
DIY Debt Settlement Reduction Tips
When poor sales and a declining economy forced Mark to close 2 of his 3 farm supply stores, he was left with huge credit card debts that he was unable to pay. Having heard good feedback about debt settlement, Mark decided to contact each of his credit card companies to try and negotiate a pay-off agreement.
He explained his financial situation and made it clear that if a settlement could not be reached, he may be forced to file bankruptcy. Since he did not have a way to provide a lump sum payoff, arrangements were made for Mark to pay back a reduced balance over a specified period of time.
How to negotiate credit card debt still in good standing? Posted by Anonymous
We have several credit cards and half the cash to pay them off. We have not been late on any payments. Husband to loose job in 2 months don't want to file bankruptcy. Any tips how to negotiate and settle these cards easy?
---
Hi!
If you are not behind, it is unlikely your credit card company will take a settlement offer on the debt.
However, you can certainly try. Check out these pages for what we recommend:
https://www.debtsteps.com/debt-settlement
Scroll down to see the tips, letters, etc. we have on the site (center column).
Also, consider negotiating to reduce the interest rate. You can use your husband's pending layoff as the trigger for this and you may be more successful doing that since you are not behind.
If you are not willing to go behind on your credit cards, and consequently the creditor won't "deal" with your offers, then just taking what you have, to payoff debt as you can, may be your best bet.
However, make sure you have your emergency fund in place … don't use that to payoff debt unless the interest rate on the debt is high.
Wishing you the best!
DebtSteps Admin
Unfortunately, rising expenses made it difficult for Mark to meet his monthly obligations, and in order to honor his agreement with the credit card companies, he began to fall behind on his mortgage. Now, 8 months into an 18 month agreement, Mark was once again facing financial ruin and possible foreclosure on his home.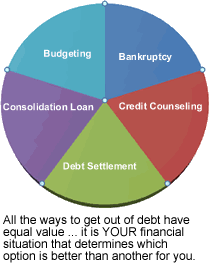 Was debt settlement the wrong choice for Mark? Not necessarily. He just failed to look at all the factors before determining what he could REALLY afford.
He needed to consider the profit projections for his business and take into account rising costs. In other words, he made an agreement without being properly prepared and ended up facing legal action when he was unable to honor his commitments.
Debt Settlement Reduction Tips – Knowing What You Can Afford
Ken and Jane enjoyed the financial security of successful careers until Jane lost her job and the reduction in household income put a strain on their budget.
When several months of delinquent payments forced the couple to consider their debt relief options, they sat down and carefully reviewed their finances. Before entering into negotiations with creditors, they knew exactly what they needed to get out of a settlement and were prepared to consider bankruptcy if an affordable agreement was not reached.
They sought legal advice, checked out options for a lump sum payoff, and knew where they stood financially before they even contacted their creditors. Unfortunately, Ken and Jane quickly discovered that debt settlement was not the best choice for their situation, and eventually filed Chapter 7 bankruptcy.
The most important part of the debt settlement process is knowing what you can afford. A creditor may make you a great offer, but if it is still beyond your financial means then you might as well not settle because it won't be long before you are right back where you started.
You may need to hire a debt settlement company or a financial advisor to help you review your situation, but this expense is certainly better than making an uninformed or ill-prepared agreement.
Using Debt Settlement to Avoid Bankruptcy
And, if you are using debt settlement as a way of avoiding bankruptcy, then protecting your credit rating should be a priority. Ask creditors to report your account as "paid in full" or "current" rather than "settled".
And, don't be afraid to insist. After all, the whole point of trying to settle debts is to reduce the impact to your credit score that a bankruptcy can cause. But remember, if creditors are doing you the favor of lowering your debt and protecting your credit, you must be able to keep your end of the deal.
Whether you use a debt settlement service or choose the do-it-yourself route, this debt relief option can be very helpful. But, there are things you need to know, and steps you need to take, in order to get the best deal possible.
Get Advice or Offer Advice on Debt Settlement Reduction Tips

If you are looking for advice on how to use debt settlement programs or how to negotiate an agreement yourself, you can ask for it here. And, if you have experienced the debt settlement process, why not share what you have learned so that you can help others get out of debt faster? Your tips could be invaluable and your words of encouragement may help someone else save thousands, or even tens of thousands of dollars, in interest payments.
Need or have tips about debt settlement reduction? Ask your question, or share your story here! We like to think of it as paying it forward in the world of debt reduction!