If you are considering filing bankruptcy as a debt solution, it is imperative that you understand the pros and cons of court liquidation or reorganization before you can decide if this is the right option for you.
Video: 8 Crucial Mistakes to Avoid
When is Bankruptcy the Right Choice?
There are several types of bankruptcy and many different debt relief options available. Making the right choice for you will depend on such things as the amount of debt, assets, or income, as well as state laws and exemptions.
After reviewing your financial situation, carefully considering all your options, and consulting with expert advisers and attorneys, the decision to file bankruptcy is really yours to make.
Remember that filing bankruptcy is a drastic solution and should really be a last resort, one that is used only when all other options are exhausted or considered nonviable. However, if you are being overwhelmed by bills and there doesn't seem to be a way out, bankruptcy may be able to provide you with the fresh start you desire.
Basically, if you are unable to pay your bills, debt is growing, you have no savings, and credit counseling or money management plans were unsuccessful, then filing bankruptcy is something you need to consider.
If you have reviewed your budget and found that no amount of rearranging or belt tightening will allow you to pay off your debts within five years, then insolvency is probably your best choice.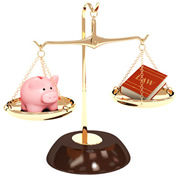 Don't let anything prevent you from asking for help. If your finances have reached a point where filing bankruptcy is the only solution, then think of it as a turning point. You can choose to come through it wiser and more equipped to work toward your future financial security.
However, if you can pay off existing debt by making a few changes and living on a reasonable budget, then it is recommended that you take this route.
Contact a credit counseling service and enlist their help in drawing up a repayment plan that fits your budget. Commit to getting out of debt by sticking to the plan and making wise financial choices.
Having a goal, and a manageable means of achieving it, will relieve the stress and worry caused by out of control finances.

Get free credit counseling advice
to help you overcome your debt.
Know All Your Options
.
Filing Bankruptcy Advantages
There are obvious benefits of filing, these include:
Most collection actions must be stopped by the Creditors pending the results of the proceeding. Filing for bankruptcy involves submitting the necessary documents with the court. Once you have been assigned a Docket Number, creditors will be prohibited from contacting you directly, but must communicate through your lawyer. However, this does not apply if you choose to represent yourself, so to put an end to those stressful calls from collection agencies, it is recommended that you hire an attorney. Although creditors are still permitted to contact your representation, most will wait and use the court proceeding to address issues.
Most of your debt will be cleared (except those that are exempt from bankruptcy), allowing you to begin anew. In most cases, you can keep a few assets to help you move on after bankruptcy as well.

I kept getting harassed by a credit card company. They kept calling and calling, sending me collection letters and even calling my work. I looked up the collection agency on the web. I read that they were a shyster group of attorneys trying to make a buck on collections. I had no intention of paying them anything.

Since I was unemployed at the time and had no income, I was living with my parents, I decided to file for bankruptcy. I talked to a friend whose family member is an attorney. I went to the clerks office and filed.

After the proceedings were over, they do not bother me anymore. I would do it again if the situation were similar but it is a big decision not to be taken lightly.

Posted by: Sarah
Bankruptcy Disadvantages
While bankruptcy can provide you with a fresh start, there are also some disadvantages that you must be aware of. These include:
There will be a negative impact on your credit rating.
You can file only once every seven (7) years.
The bankruptcy will show up for ten (10) years on your credit report.
It may be more difficult, though not impossible, to get credit or receive financing to purchase a home, car, etc. Some companies are willing to give credit to a person immediately following a bankruptcy because they know that another bankruptcy cannot be filed for seven years.
You may be required to pay higher interest rates, making both your monthly payments and loan payout totals higher.
The biggest disadvantage of filing reorganization (Chapter 13) is you will be on a strict budget for 5 years so you can pay back a good portion of the debt you accrued.
The biggest advantage is that you are paying back at least some of the debt you owe; whereas Chapter 7 is liquidation of eligible debts.
If you are not eligible for Chapter 7 and can only file 13, then do consider the 5 year repayment plan as a long lesson on budgeting.
Should You File Bankruptcy?

Filing for bankruptcy is a very difficult decision. By the time the filing took place I was years in debt and had tried numerous ways to get out of debt. I was on payment plans with my credit cards and finally was unable to make those payments.

I had a meeting with a lawyer to discuss my options. I tried to get through another year after that meeting to stablize my financial situation without success. At this point I filed for bankruptcy.

The papers for filing were long and tedious and required all of your financial information. I also had to take a financial class online that taught me about being financially stable. After that was complete, I had a hearing where the court asked me several questions regarding my financial situation. They cleared me for the bankruptcy and then I waited several months for the actual discharge of my debt. My debts were all eliminated.

Looking back I would file again if I was in that situation. I am now more aware of my spending and will not accumulate debt like I did before.

Posted by: Wanda
You are the only one who can decide if filing bankruptcy is for you or not. Do the free household budget form we provide, get help reviewing your budget and finances, talk with a local lawyer then decide.
Filing bankruptcy can be dramatic; but it may be what you need to start over and get back on your feet.
Is There Life After Filing Bankruptcy?
Life goes on after bankruptcy, even the ability to repair your credit, and get financing for just about anything. There is one thing you need to be aware of … a large percentage of bankruptcy filers, file again!

Repeat bankruptcy filings are at an all time high of 13% and climbing dramatically.
One of the main reasons is the lack of financial education and counseling to help people manage their debt and finances. Consequently, they get in trouble again, and fall back on their last choice to get them out of debt … again.
To avoid becoming a member of the Repeat Bankruptcy Club, we strongly recommend you take the time, and make the effort, to learn how to manage your finances properly. Don't repeat your mistakes!
Not sure if bankruptcy is right for you? Compare your options to consolidate debts.
Have you considered debt settlement? You can settle your debts for less than you owe and make payments you can afford! Low fees, and no upfront payment required.
Recommended Reading:
What are informal bankruptcies?
Read about the new Bankruptcy Laws.
Go to the Bankruptcy Facts article list or to the top of Pros & Cons Of Filing Bankruptcy