Knowing how to avoid bankruptcy and being aware of the alternatives that are available to you can help you make the best decision for your financial situation.
Today, more and more people are filing for bankruptcy as their first debt relief option rather than as the last resort for which it was intended.
Bankruptcy is not a quick and easy way out of financial difficulties. It is actually a very drastic decision that should only be considered once all other alternatives have been exhausted.
Filing bankruptcy can have a very negative impact on your credit rating, making it difficult to obtain additional credit or reasonable interest rates. You will need to begin the process of rebuilding your credit, and your financial reputation, which can take many years.
Before making a final decision, consider some of the alternatives that may help you avoid filing bankruptcy.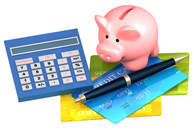 Convert Assets to Cash
In bankruptcy you risk almost everything of value you have. Have a yard sale, put items up for sale in the paper, post list of saleable items on bulletin boards.
The cash you can earn from stuff, can help get you through; pay the attorney, etc.
Move to a smaller house.
Sell your recreational vehicles, down size your cars.
Inventory your household and see what can bring in some extra money.
Work More
If you aren't on salary, consider taking on more hours at work, or find a second (or third) job.
Your significant other should also see what they can do to help bring in extra income.
Ask your boss for a raise or promotion. You may balk at this idea, but your company may find out anyway if you declare bankruptcy. They might wonder why you didn't come and ask for their help.

Get free credit counseling advice
to help you overcome your debt.
Know All Your Options
.
Reorganize Your Debt
Look into the feasibility of a short term loan. You won't eliminate the debt without paying it off, but it could be better than going bankrupt.
Know The Law
Bankruptcy laws differ by locale, so consider consulting an attorney. A free bankruptcy appointment is often just a phone call away.
Communicate With Your Creditors
Communicate, and threaten (nicely) if necessary. Write a letter to everyone you owe money to, letting them know your financial status.
Make it clear that if you cannot find a way of paying your debts, you may have to file. This type of action lets your creditors know you are on the verge and you need help on how to avoid bankruptcy from them!
What's Next for Reading?
Can Bankruptcy stop foreclosure?
Pros and cons of liquidation vs. reorganization when filing bankruptcy.
Go to the Bankruptcy Facts article list.
Top of How To Avoid Bankruptcy.