If you have questions about your credit report, here is how to contact Equifax, Experian and TransUnion, the 3 major credit bureaus. Here are the main addresses and telephone numbers for each of them: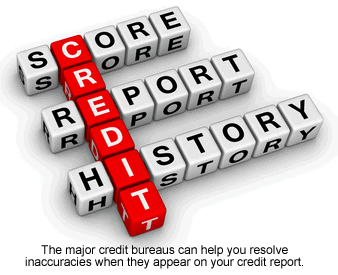 Equifax
P.O. Box 740241
Atlanta, GA 30374
1-800-685-1111
Experian
P.O. Box 2002
Allen, TX 75013
1 888 397 3742
TransUnion
P.O. Box 1000
Chester, PA 19022
1-800-888-4213
There are now 4 ways to get a copy of your credit file for free, and one without having to put a credit card on file:
if you think you have been a victim of credit fraud or identity theft;
if you were turned down for credit within the last 30 days; and
the law now allows you to get a copy once annually from the major credit bureaus;
as a bonus for signing up for credit monitoring.
You can write a letter to one or all of the major credit bureaus, and request a copy of your free report for the first two items above.
Have your information ready so you can reference it easily. If you contact them by mail, include copies of the related information.
In probably 99.9% of the cases, you will be treated with courtesy and respect and be able to get your issue resolved, as in these 3 of the 4 incidents reported to us:
"I contacted TransUnion to check on the status of a dispute I had filed regarding a creditor who was misreporting a charge-off on my credit report.I was a little skeptical at first, but must say that they sent the report, and when I filled out and submitted the dispute resolution request that they did what they said they would do.
They in fact did contact the original creditor and asked for proof of the alleged debt. When the creditor could not produce the proof of this alleged debt the credit reporting agency quickly removed all traces of the negative mark.
This process was simple and effective. I would recommend that anyone with a questionable mark on their report contact TransUnion and have it investigated.
It was indeed helpful to contact the bureau and was productive. They followed through exactly as advertised, and were respectful and professional throughout the whole process. If I were to find any other questionable negative marks on my report, I would do the same process again without a doubt."
Here is another report submitted to us that we thought you would like to see:
"About a year ago, I was thinking about buying a car, and I had to check out my credit report before doing so. However, when I checked my report I saw an inquiry that I didn't recognize and immediately became very concerned.I immediately contacted TransUnion to find out what was going on. The lady answered and greeted me respectfully and professionally. I explained the situation and the issue was cleared up immediately. I had opened up a phone line with ATT, and it was their credit check. This was confusing because the inquiry was the ATT headquarters' address, and there were no indicators that it was ATT.
I would absolutely say that the customer service person was extremely helpful, and I even received a call a few days later to make sure everything was OK. If I ever have a problem in the future TransUnion will be the ones that I contact."
And sometimes the frustration of waiting can be a bit too much:
"Recently, I was interested in financing a new car for the family to use. I considered going straight to a bank to attempt to get a personal loan, but since I knew my credit wasn't the greatest, I decided to try and get information on my credit score before making a fool out of myself.I decided to try and contact TransUnion, so I went to their website. I was looking for either phone numbers, emails, or a way to mail out my request. I was directed to a contacts page and found a link to a free credit score website, which of course, was not free. There was a monthly charge.
I am aware that it is the law that I can obtain my credit information for free once a year, so I refused to pay the monthly fee on their website, instead I called the number for TransUnion listed on their contacts page.
This turned out to be a nightmare of waiting. It took forever before I was able to speak with a representative. The person on the other end was respectful enough, but was very slow in handling the situation.
Eventually, they were going to mail me information on my credit score, which took another 3 days to arrive in the mail. I was on the phone for a total of 45 minutes that day before my problem was resolved.
I was not too pleased with the time it took for me to place the call, speak with someone, and discuss my problem. All in all, I would have been better off just going straight to a bank and finding out my score there. Next time, I won't be calling TransUnion."
Getting Your Free Credit Report Without A Credit Card
The Fair Credit Reporting Act (FCRA) requires each credit reporting agency (i.e. Equifax, Experian, and TransUnion), to provide you with a free credit report even without a credit card, upon your request, once every year.
You do have to make the request however; but the Federal Government has made that exceptionally easy. Just visit AnnualCreditReport.com each year to request your annual free credit reports.
The fourth way to get free online credit reports is to sign up for a credit monitoring service that offers the report as a bonus.
Let's end with other submissions we received:
"After examining my updated credit report, I contacted the TransUnion credit agency to question an unknown charge that appeared on my record.The charge was fraudulently made by someone else and was charged to me! I was quite upset when I called, and the agency was able to reassure me quickly that they could handle the problem.
I was promptly switched to another department where the excellent customer service and straightforward answers continued. The issue was explained to me in a way that I understood, and I was given a few options for handling the matter.
A brief investigation was launched to verify the accuracy of the report that I gave. Shortly after contacting TransUnion, the issue was totally resolved and the false charge was removed from my record.
I was very satisfied with the customer service that I received on both my initial and follow-up call. I also chose to enroll in identity theft protection. If I had to contact this agency again, I would not hesitate to do so. All agents were patient and seemed to be concerned about my views, which is truly important to me as a consumer."
The type of service you get may vary, but if you offer sufficient information, background and reasoning, you may get the result you want so long as it doesn't violate the standards the major credit bureaus abide by (which can include Federal and State Laws). However, in most instances, contact by letter or the form on their sites may give better response rates.
Site Contact Information for Major Credit Bureaus:
"A few years ago, I contacted Equifax because I wanted to apply for a credit card but my credit score was too low. I contacted them by phone.I needed to get information about the items that were on my credit report. They gave me the names and phone numbers of the creditors I owed money to or, in some cases, of the collection agencies that the debts had been sent to. They were very polite, and getting all the information I needed was not hard. All the information they gave me was accurate.
After I paid the debts I owed, my credit report was updated within three or four weeks. I would definitely contact them again if there were items on my credit report that I needed to get contact information for."
Top of Major Credit Bureaus.
Return to Your Online Credit Report