When you are comparing a Mortgage vs Home Equity Loan, you will probably see ads for lenders offering fixed rate mortgages for a low rate. An old mortgage type is making a comeback …
Meet SAM, a Shared Appreciation Mortgage or SAM for short. In the 1980s, when lending interest rates were high, the shared appreciation mortgage made its debut. When rates are high, it makes qualification criteria more stringent.
Shared Appreciation Mortgages are making big news. Can they be your answer?
The main thought behind the SAM was to offer borrowers a lower interest rate up to 2% lower for an agreement to share the future increased value of the property with the lender. Easier qualifying criteria and a significantly lower payment were the promises for this dilemma, Mortgage vs Home Equity.
If you're thinking about selling your home, be sure to check out the basics.
Mortgage Home Equity Loans
Getting mortgage home equity loans for debt consolidation requires you to commit to get your finances under control, especially tracking your spending, so you don't end up back where you started … in HUGE debt. So, what are secured home loans, and how do you use them to your advantage to get debt relief?
Mortgage Refinancing
If you own a home, you can mortgage it, or refinance your mortgage to obtain the equity you have, and use that money to payoff your debts. This is usually the option with the lowest interest rate allowing you to get cash out when you refinance your home mortgage.
One of the options to consider on a mortgage refinance, is to restructure the term of your mortgage, and lower the interest rate, with or without obtaining additional cash from your mortgage. We were able to do this with our 30-year mortgage. We cut 6 years off the mortgage, lowered the rate and monthly payment, for a one time fee of less than $150!
Second Mortgages
Second mortgages are very much like first mortgages, except, they leave your first mortgage intact and untouched, usually have a higher rate of interest than first mortgages, and approximately the same closing costs. They are subordinate to a first mortgage, meaning in collection actions, they have a second priority after a first mortgage.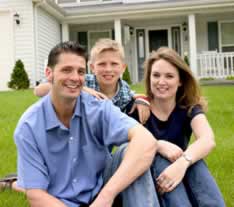 Home Equity Loans
Home equity loans work like an "open account" similar to a credit card. You may pay a slightly higher interest rate for the convenience of being able to draw the cash as you need it over time. Home equity loans are similar to Second Mortgages, and, again, are subordinate to the first mortgage on real estate.
Home equity loans act more like a line of credit. You can even learn more about them from credit repair companies.
As you make payments, the principal portion of the payment is immediately available again (at then current interest rates) should you need it. Plus, they still have some of the lowest interest rates. A Home Equity Loan can help you consolidate your bills and reduce your monthly payments.
With mortgage home equity loans, you need to be disciplined when drawing on your account. You shouldn't use it to run up more debt, but only to payoff existing higher rate debt so your money management plan can breathe again.

Joe Cotton needed to take out a second loan on his home to pay for the pool he wanted to put into the back yard of his home.
He was instructed to take a Home Equity Line of Credit for its flexibility and ease to use the funds as needed. When the bank ran Joes credit, he was approved instantly for a $35,000 HELOC.
He set up an appointment to meet with the mortgage broker and sign off on the paperwork. At the appointment, Joe was given his HELOC card and his lawyer had him sign off on the paperwork.
Now that Joe was able to pull the equity out of his house, he met with a contractor in his back yard to have his pool installed.
He would never have been able to do it without the help from his HELOC.
Procedures For Mortgage Home Equity Loans
Once you apply for the home loan you prefer, your lender or mortgage broker, will prepare the necessary paperwork, do the appraisal, and set up your closing.
At the closing you, and your partner if you have one, will read and sign the paperwork, pay any fees due, or have them deducted from the proceeds, and receive the balance of the proceeds. From application to receiving the proceeds, the time can range from as little as one week online, to as long as several months locally.
Applying for a mortgage home equity loan online is quick and easy, and very convenient since you can do it from home. Most online mortgage brokers will offer a variety of lenders who will bid on your mortgage home equity loan so you can get the most competitive rates available.
What is a Secured Home Equity Loan?
Homeowners have an option open to tap into their equity in the form of a secured home equity loan. Discover how borrowing against your home value can work for you.
When it comes time to make improvements to the house, it can get quite expensive. These loans can be convenient and use the home as collateral.

The equity in this example is $135000 – $93000 – $17000 for a total of $25000.
A home is an investment that usually appreciates in value. Equity is defined as the home's fair market value less the unpaid balance of the mortgage as well as outstanding debt overhead on the home.
For instance, lets say that you buy a house for $100,000 and pay on it for 10 years. At that point, you have an outstanding principal of $93,000 and the home has a fair market value of $135,000. Along the way, you install a roof and siding on a personal loan of $25,000 which has a balance of $17,000.
The basis of a home equity mortgage refinancing loan is for you to borrow or use that equity. Usually this is done for major repairs, remodeling, pay medical bills or a college education. As with all loans, there are factors determining eligibility. These factors include credit history, income and the collaterals appraised value among others.
Home Equity Loans FAQ
There are a number of fees that may be applied to a home equity loan. Some of these are application fees, appraisal fees, origination fees, title fees and arrangement fees. Before you sign or agree to anything, be sure to read the terms carefully and ask questions. Ensure that you understand all the fees associated so you don't get any unwanted surprises at closing time.
How Home Equity Loans Work
Secured home equity loans are normally at a fixed rate but are also available as adjustable rate loans and flexible payment loans. By far, a fixed rate is the most desirable of these. This means that the rate you agree to will remain the same throughout the life of the loan. With adjustable rate loans, the credit company can change it at any time over the course of the loan. The rate will be driven by the PLR (prime lending rate) and could go up without warning.
The most important thing to realize about home equity loans is that your home is the collateral. This means that your home is on the line and if you should default on the payment terms, the loan company could foreclose.
Since the home equity loan is a second tier loan (the second loan to use the home as collateral), this could also happen if you happened to violate the terms of the primary mortgage.
In that case, the holder of the equity loan could take care of the primary mortgage payment and then foreclose to recover their payment as well as the principal.
Home Equity Loans Resources
So before you go for a home equity loan, do your homework and look around a bit. Check out terms, rates and fees, making certain that you understand the home equity loans FAQ. Be certain that you understand all there is to understand before signing anything. Watch for extremely stringent terms that do not work in your favor.
Find your best-secured home equity loans.
What became of SAM?
But SAMs never became popular; Mortgage vs home equity loans and adjustable rate mortgages (Arms) offering a lower rate today as well a potentially lower rate tomorrow, were more attractive to the masses than the fixed rate mortgages. As a result, the SAM was put away and forgotten. Until now, that is.
Mortgage rates are again becoming uncomfortably high and Arms have lost their appeal with interest rates not far below FRM (fixed rate mortgage) rates. Many borrowers are not attracted to an interest only mortgage as a result.
Who benefits from a shared appreciation mortgage?
The shared appreciation mortgage has a fixed interest rate and a fixed term up to 30 years. You agree to forfeit a part of the home's future market value in exchange for a lower rate of interest. This is the difference between what the home is worth presently and what it is worth will be a few years from now. Since real estate will appreciate over time, this is a boon for the lender more than the borrower. This is different from a typical home equity loans.
Any increase in the home's value will be split with the lender in the case of a refinancing, pay off the loan in the process of moving or otherwise terminate the loan before it matures.
Say you buy a home with a value of $200,000. A couple of years later, you choose to move. Your home has increased in value by $15,000. Assuming a 50% appreciation agreement, you would owe your lender half of that amount or $7500 plus the remaining unpaid balance of the mortgage and any penalties that may be called for in the contract.
If you keep the SAM for the full term, the shared appreciation will be due to the lender after the last payment.
Your interest rate is reduced based on how much of the future appreciation you give away. Choose which is the best for you, Mortgage vs Home Equity. For example, you might see the following from a lender: (Note: This is only an example. Rates and breaks may differ.)
30-Year Fixed Rate Mortgage: 9.25%
SAM w/20% Appreciation: 8.75%
SAM w/30% Appreciation: 8.25%
SAM w/40% Appreciation: 7.75%
SAM w/50% Appreciation: 7.25%
Are home improvements deducted from the equity in the property?
Home improvements may or may not be included in the appreciation calculation. It is wise to follow and check the rules of the SAM closely. The terms will detail what is and is not included in the appreciated value.
Whether a SAM is right for you, or not, is up to you. If you intend to make significant improvements to the home, you may want to think that out thoroughly before you sign the agreement. Always be sure you understand the terms and conditions. Your best option is to compare several Home Equity Mortgage Refinancing Companies.
Is a SAM mortgage right for you? Find resources to obtain second mortgages, home equity loans, or refinance of an existing mortgage.