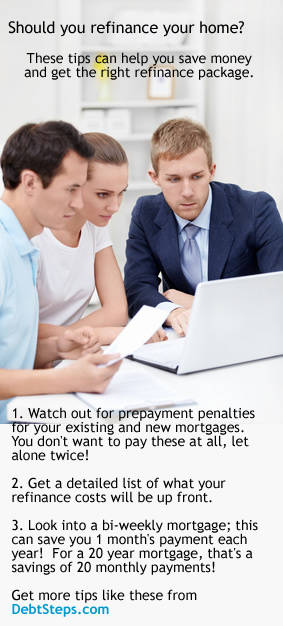 Should I refi my house? Owning a home is a great experience. It brings with it a lot of responsibility including financial ones. Lets see …
Depending on the situation, you have the option of refinancing your mortgage loan. You may come across a better deal in the form of a lower interest rate and want to consider a mortgage refinance. Sometimes though, a refinance may not be in your best interest.
Refinancing your mortgage is defined as going to another lender who pays off your original mortgage and replaces your home loan with a new loan with the new terms. You must agree to these terms, of course, and will be informed of all fees, charges and costs involved. In essence, you end up with a brand new mortgage loan.
Facts you should know
The one thing you must be aware of is that when you refinance a mortgage, your loan starts all over again at day one. Regardless of how long you have been in the house, this is the case.
Another thing you should realize when you ask the question whether or not to refi my house, is that the lender holding the original mortgage may have substantial pre-payment penalties.
For these reasons, you should make sure you understand everything that is involved before considering a mortgage refi. Homeowners do a mortgage refinance for many reasons, some of which include paying college tuition, performing a major home improvement or paying off some bills. These are all valid reasons for a refinance as long as the terms are in your favor.
What should you look for in a mortgage refi?
The largest single item is a lower interest rate than your original loan. Say you originally borrowed $100,000 at 7.5% and your payments are about $800 a month. Refinancing with another lender at 5.9% could save you as much as $150 a month on the payment. Most people think about a mortgage refinance for this reason alone.
You could also accept a bi-weekly payment program, which essentially cuts the loan term in about half. In other words, a standard 30-year mortgage can be paid off in approximately 15 years at the same payment.
The only difference is that you will be paying half of your monthly payment every two weeks. So what happens is you end up making 26 bi-weekly payments, which boils down to an extra month every year (26 weeks = 13 months).
Is this your best home loan option?

Get free credit counseling advice
to help you overcome your debt.
Know All Your Options
.
With all of its benefits, refinancing is not always the best option. A refinance is not advised when: Interest rates exceed what you are paying now. You have substantial equity built up in the home The home's appraised value is more than twice what you paid for it.
Higher interest rates will mean higher payments, obviously, so there is no benefit for you. Part of the refinance procedure will be to do an appraisal to determine the home's present market value.
Since homes typically appreciate naturally, you will build equity slower on the new loan. If you have been in the house for a long time and have built substantial equity, you may lose that equity in a refinance of the existing mortgage if you choose to refinance the loan for more than you currently owe.
A better choice for you would be to apply for a home equity loans at a lower rate and pay off the mortgage balance with the proceeds, and then simply repay the equity loan.