Find reliable debt settlement companies and get a free debt settlement quote for services to get your bills settled.
Finding the best debt settlement companies is not always easy, especially since there are hundreds to choose from. And not all organizations that market themselves as debt settlement companies are honest or reputable.
Many will charge you a fortune but do very little to help you achieve a settlement. In fact, some people have complained that they actually ended up deeper in debt and faced lawsuits that cost them additional money in legal fees.
But there are some very competent debt settlement companies that have built good reputations by doing exactly what they advertise.  Curadebt is one of the top-rated debt settlement companies.  If you have at least $10,000 in unsecured credit card, personal loan and other debt, contact them today.
More than 2 million Americans use some form of credit counseling service each year. With so many people desperate to find help for their financial situation, many organizations have suddenly appeared, offering a lot of promises with very little experience. Some are simply inept, while others are complete frauds.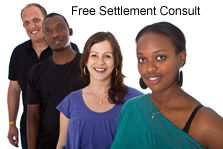 However, since it is largely an unregulated business, it really is a case of 'buyer beware'. If you are considering enlisting the services of a debt settlement company, do your research to make sure that the organization is well-established and reputable. Check with your local Better Business Bureau to see if there have been any complaints or legal actions against them.
What To Look For In A Debt Settlement Company
Reputation. The best debt settlement companies will have a long history and good reviews. Talk to others who have used their services and find out if they were satisfied with the help they received.
Upfront Fees. Beware of companies that ask for upfront fees before they even look at your finances. You may put out an large sum only to discover that there is very little they can do to help you. If the company asks for any fees that seem questionable or make you feel uncomfortable, then do not use their services.
Too Much Pressure. If the representative tries to rush you into signing a contract before you have had a chance to read it thoroughly, or if you feel pressure to sign up without receiving any concrete plans or advice, then avoid the company.
Unreasonable Promises. If it looks too good to be true, it probably is. Beware of companies that make promises before ever looking at your financial situation, or claim that getting out of debt can be "fast and easy". Debt settlement can often take years and if a company says otherwise, be careful of their methods.
Cost. Make sure you understand the fees you will be paying and how they will be paid. Do they charge a percentage of the total debt, a percentage of the settlement, or require upfront fees? Do they offer a money back guarantee if you cancel or if they are unable to negotiate a settlement? A reputable company will be very clear about their payment policies and should be able to show you this information in writing.
Services. A good debt settlement company will do an analysis of your financial situation and then present you with your options. They will discuss bankruptcy, consolidation, and an alternate plan in case they are unable to reach a settlement agreement with your creditors. They should also make some type of financial counselling available. Find out exactly what you are paying for before you sign any contract.
Time. Ask how long they think it will take to settle your debt. This can vary from company to company, depending on their reputation and relationship with creditors.
Legal representation. Find out if the company is backed by a debt settlement law firm or if they have lawyers on staff that can assist with any legal aspects and help you if a lawsuit arises. Check out the law firm to make sure that it is legitimate and reputable (HMRC arrears from HJS Recovery for example).

Don't let creditors get you down, get relief today with
this one simple step
to get your bills settled.
**Notice: Sorry, applications from outside the U.S. are not eligible.**
You must provide valid information to have your application processed.
Your information is kept confidential and will only be used by the Debt Consolidation/Settlement Specialist to discuss your options.
Some Recommended Debt Settlement Companies:
Debt settlement companies can be very helpful, but only if you choose the right one. Avoid making a quick decision. Take the time to compare and research the various companies so that you end up with a good deal rather than finding yourself deeper in debt.
Do you have more than $10k of credit card, personal loans and other unsecured debts? Get a FREE debt analysis from 6 am to 6 PM PST M-F From The #1 Rated Debt Relief Company. Click Here.
You can learn more about debt settlement here: Debt Settlement & Consolidation Help
Return to the top of Reliable Debt Settlement Companies