Once you know what is in your FICO score, you can take steps to improve your credit rating. Learn how here …
The first step in improving your FICO score is to understand where your financial information fits into the calculation of this primary rating system.
There are five primary calculations used in determining what your score will be; each is weighted, not all are handled equally, so putting emphasis on fixing the heavily weighted items will help improve your score faster than if you concentrated on the lesser weighted calculations.
The five primary areas of interest are:
Paying your debt obligations in a timely manner … 35%;
Your Credit to Debt Ratio … 30%;
Frequency of applications for new credit … 15%;
What types of debt you are carrying, i.e. installment, bank credit, credit cards, etc…. 10%; and
Your credit relationships … how long (how old) the accounts are … 10%.
This pie chart shows a visual representation of these five areas of interest: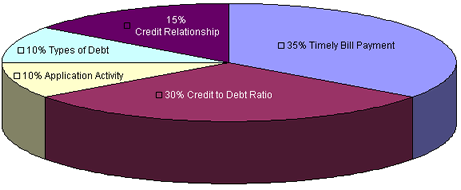 Legend For FICO Chart

Based on the chart above, it is quite obvious that paying your debts on time, all the time, will have the largest impact on your credit rating. After that, making sure your Credit to Debt Ratio is inline with recommended financial guidelines will do the most good in keeping or improving your ratings with the 3 major credit bureaus.

Get free credit counseling advice
to help you overcome your debt.
Know All Your Options
.
Your application activity is how often you apply for new credit. Doesn't matter if it is for a credit card, car loan or mortgage … each time you apply, the lender may request your credit report from one of the major credit bureaus. If they do, this request is counted as an application activity and can count against you if you do it too often.
The types of debt you have, and their relationship to each other, will also be calculated in determining your credit rating. Secured debt vs. unsecured debt, and how much of each, does count!
Credit relationship is based on your history … basically it is how old your accounts are … accounts that are 2 years old or older go a long way in showing responsible debt management if they are in good standing. Don't close old accounts when you pay them off … just retire them 😉
How Often You Need To Review Your Credit File
Twice a year is usually fine to view your credit reports but you should view them more often while you are working on your getting out of debt program. I recommend you apply for Credit Monitoring; then you will get unlimited reports as well as updates that creditors might submit. Monthly reports could cost you in excess of $130 a year, but with Credit Monitoring, you get it all for less. Definitely the way to go!
Top of What Is In Your FICO Score?
Return to Your Online Credit Report.