What kind of consolidation loans are available and should you borrow to pay off your debts?
Debt consolidation loans allow you to borrow to refinance or restructure debt. The options you have to have to borrow money, and make one monthly payment until you are out of debt include refinancing your mortgage, getting a home equity loan or personal loan, etc.
What Do Debt Consolidation Loans Involve?
They involve applying for the loan, being approved, then revising your budget to remove the paid debts, and including payment for new loans. It is important for your financial future, that you don't incur any more debt while making consolidation loan payments. If you do, you could find yourself back in over your head, and on your way to bankruptcy.
Quick Tips For Debt Consolidation Loans
If you haven't already done the Debt Worksheet (available in our printable monthly budget form), do it now. Review your Debt Worksheet so you know how much you need to borrow, and what interest rates you are currently paying.
Do the Income Worksheet and Monthly Budget so you know how much of a payment you can afford.
There is no fee, or obligation, when you apply online for a consolidation loan, so you can shop around for the best rate, and payment terms, you can get.
Allow yourself some leeway in your budget when calculating payments on consolidation loans. This will help you to pay it off faster and save interest.
Compare Secured and Unsecured Debt Consolidation Loans
If you own a home, vacation property, or other real estate that can be used as collateral to secure your loan, you may qualify for a first or second mortgage, home equity loan, or refinance of an existing mortgage to consolidate your debt.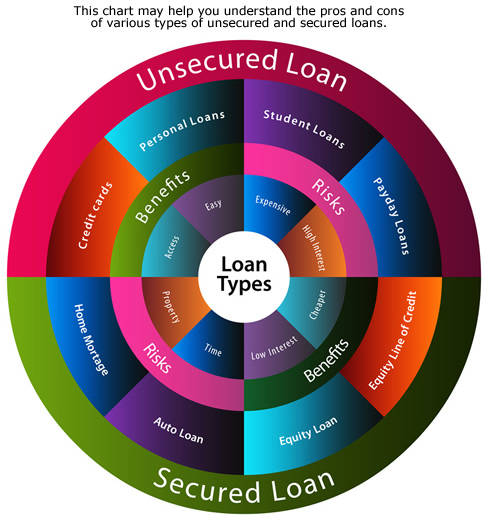 However, if you don't have equity available, you may have to consider a personal loan. What are some of the pros and cons of secured vs. unsecured loans?
 + Rates on secured loans are lower
 + Ability to borrow more money
 + Smaller monthly payments
 –  Longer repayment terms
 –  Risk of losing house (or other secured asset) if unable to maintain payments
Unsecured Consolidation Loans
If you don't own real property, you may qualify for personal loans that can be used to consolidate debts.
 + Unsecured loan, you don't risk your assets
 + Shorter payment terms
 –  Higher monthly payments
 –  Higher interest rates
Sue and Bob were facing financial difficulties and had credit card debt which needed to be paid off. So Sue and Bob consolidated their debt and made one loan payment with lower interest rates.

Not long after that Sue and Bob's daughter become ill. Sue and Bob went to the bank seeking to have their house reappraised in order to take out a second mortgage. Sue and Bob had been faced with financial difficulty as their young daughter become quite ill and they did not have enough funds to cover the medical bills associated with their daughter's illness.

Fortunately, they had previously done upgrades and renovations to increase the value of their home, thus getting the required amount in a second mortgage to cover the medical costs of their young daughter. Their daughter is doing well today and the family is living happily.
Learn More About:
Tips On Finding A Personal Loan For Bad Credit Risks When considering a personal loan for bad credit risks or debt consolidation, it is important you know what types of loans are available, the fees the lender will charge, as well as the payment terms and interest rates.
Find mortgages and loans, even credit cards, to meet your needs, fast! Borrowing money online is as easy as a click and completing an application. You can find straight mortgages, home equity loans, refinance and second mortgages, personal, payday and home improvement loans to meet your needs.
Find out if an Interest Only Loan is the right home loan for you and lower your monthly house payments.
Should I refi my house? Homeowners just like you want to know if a mortgage refi or a home equity loan is their best option.
Shared Appreciation Mortgages are in the news …. read more here about Mortgage vs. Home Equity
What are graduated payment mortgages?
Take the confusion out of reverse mortgages, and let your home pay you every month. Did you know that no income is required to qualify for a reverse mortgage?
Why finding the best low rate fixed mortgage will improve your cash flow.
Learn the adjustable rate mortgage basics, new options are available now. Adjustable Rate Mortgages Explained Here.
Homeowners just like you are comparing mortgage benefits that these Flexible Payment Mortgages can offer.
Using a bridge swing loan can bring about a successful close your real estate transaction.
Avoiding the pitfalls of loans between friends and family … What you need to do. What you need to know …
Learn about the Mortgage Forgiveness Debt Relief Act of 2007 and what it means for you.
How you can benefit from the Mortgage Forgiveness Debt Relief Act.
Types of Debt Consolidation Loans … What kind of consolidation loans are available and should you borrow to pay off your debts?